Living Here
NEW TO THE GROTON AREA?
The Chamber of Commerce of Eastern Connecticut's video: "Welcome to Eastern Connecticut" offers an overview of what the area is all about.
RELOCATION GUIDE
The Chamber of Commerce of Eastern Connecticut Relocation Guide offers an overview of what the area is all about.
The Eastern Connecticut Relocation Guide serves as a reference for people who have recently relocated to the area or are planning to do so in the future. Download a copy here.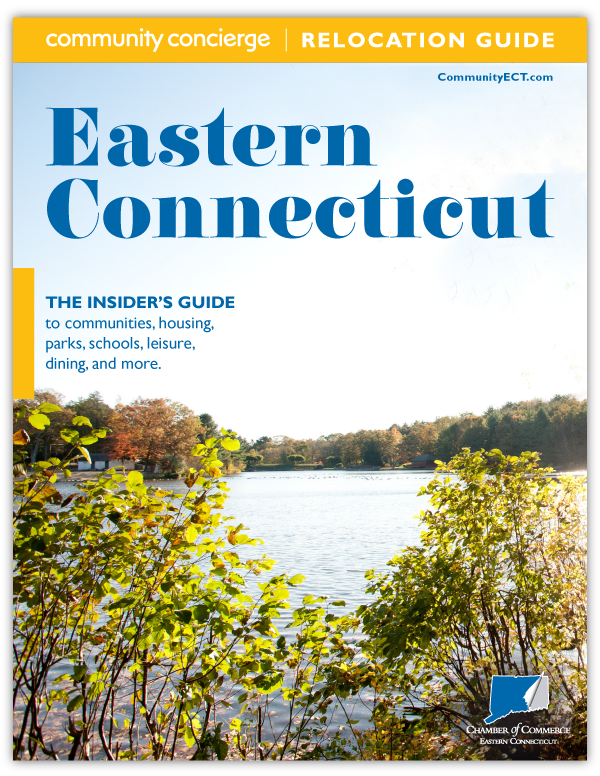 GROTON TOWN GOVERNMENT
Download the Guide to Town Government for a wide range of information for new businesses and residents including:
An overview of town government and political subdivisions
A-to-Z phone listing for municipal services and resources
Addresses of key facilities including town hall, libraries and school contact information.
The Town of Groton website offers current news and information for residents and local businesses.
---
UTILITIES
For electrical service, the town is served by two electric utilities depending on your location. Here is a map for your reference.
For natural gas, Eversource (formerly Yankee Gas) provides residential and commercial services to specific areas in Groton.
QUICK LINKS
TOP ATTRACTIONS
TOP EVENTS
HEALTH CARE
The Pequot Health Center provides emergency, laboratory, occupational health, radiology/imaging and rehabilitation services. Call them at 860-446-8265 for information about operating hours.
EDUCATION
The Groton Public School District includes a brand-new consolidated middle school and a network of magnet elementary schools, two of which feature newly constructed facilities. Fitch Senior High School provides an extensive program of studies including Honors, Advanced Placement and an International Baccalaureate (IB) Diploma program which is widely recognized by major universities and colleges across the globe. For a complete overview of Groton's public education system, visit the Groton Public School District website.
The Ella Grasso Southeastern Technical High School, also in Groton, prepares students for immediate productive employment and responds to employers' and industries' current and emerging and changing global workforce needs and expectations through business/school partnerships 
Highlighting Groton's maritime heritage, the Marine Science Magnet High School of Southeastern Connecticut, located in Groton, prepares students for higher education and marine-related employment for the diverse interests of a broad spectrum of students. Project Oceanology, located on the Avery Point campus of the University of Connecticut, offers hands-on learning opportunities. There are programs for students in grades 4 through 12, scout programs and summer enrichment overnight and day camps feature an inquiry oriented approach to science.
The direct link to the Groton Public School District is www.groton.k12.ct.us.
OTHER LINKS
HISTORIC SITES
FORT GRISWOLD HISTORY