Airport Operations Overview & Economic Impact
Groton-New London Airport (KGON) is one of six Connecticut state-owned public airports whose current primary role is for general aviation (GA).
The 489-acre facility features two runways having lengths of 5,000 and 4,000 feet with supporting taxiways, paved aircraft parking ramps, an FAA federal contracted air traffic control tower, an Instrument Landing System and ample vehicle parking.
Take-off and landing operations at Groton-New London Airport involve scheduled corporate air shuttles, charter, military, recreational and student instruction flights. In 2016, there were 38,394 flights directed by air traffic specialists. The Airport employs 375 full-time and part-time personnel.
The number of paying passengers traveling to and from GON averages 1,000 each month and there are more than 50 total based aircraft on-airport.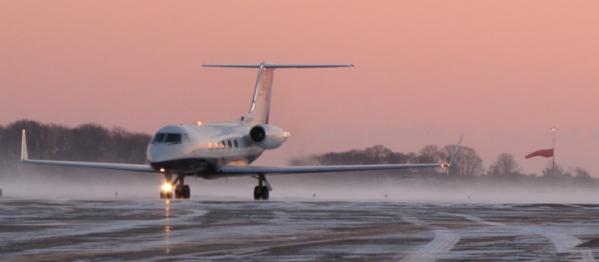 General Aviation airports such as GON provide on-airport jobs and indirectly support additional employment throughout the region. Many local businesses and government agencies rely on the airport to transport key personnel or clients, and to ship goods.
GON also serves visitors including recreational pilots and flight school students. These airport users visit local tourist attractions and contribute to the region's economy by purchasing goods & services from local businesses.
The Airport's total economic contribution to Connecticut in 2017 amounted to 837 jobs and $108 million of output, including $33.8 million of labor income and $6.54 million in state & local tax revenues.
Economic Impact: Multiplier Effects
Jobs generated by the multiplier effect account for a major part of the airport's contribution to the region's economy. Multiplier effects are generated when spending at local businesses is re-circulated through the local economy because these businesses and their employees purchase local goods & services.
Total economic impacts include both on-airport effects as well as the multiplier effects triggered by the following activities:
Airport operations & maintenance ($327,000 in 2010)
Airport capital expenditures ($6.4 million in 2010)
Airport tenant expenditures (annually $31 million)
Visitor spending by pilots & passengers (annually $5.5 million)
More than 7,000 visiting aircraft landed at GON in 2010, carrying recreational pilots, business travelers and visitors to the Mystic Region and casinos. Also, about 1,600 students traveled to the airport for flight or survival training.
Estimated Annual Visitors: 21,300
About 10-15 percent of the 38,000 operations in 2010 were for business purposes related to General Dynamics Electric Boat and several other smaller businesses.
Types of Operations
On a daily basis, the following activities occur at the   airport:
Recreational flying
Corporate/Business Activity
Flight Training and Instruction
Gateway for tourism visitors
Military exercises & training
Seasonally or occasionally, the following activities occur:
Air Cargo Shipments
Aerial inspections
Police/Law Enforcement
Search & Rescue/Civil Air Patrol
Environmental Patrol
Emergency Medical Evacuation
Aerial Photography/Surveying
Real Estate Tours
Aerial Advertising/Banner Towing
Static Air Shows/Group Airport Tours
DID YOU KNOW...?
Established as the 1st state airport in 1929, Groton-New London Airport was transferred to the U.S. Navy during WWII.
QUICK LINKS
On-Site Businesses
Action Airlines: Air Charter Services
Action Multi-Ratings: Multi-Engine Flight Training
Avis/Budget: Car, Truck & SUV Rental Services
Civil Air Patrol/USAF Auxiliary: Cadet and Aerospace Education & Aircraft Search
Coastal Air, Inc: Single Engine Flight Instruction/Aircraft Rental
Columbia Air Services, Inc: Avionics, Aircraft Maintenance & Sales
Connecticut Army National Guard/1109th Theatre Aviation Sustainment Maintenance Group (TASMG): Military helicopter repair
Federal Aviation Administration: Air Traffic Control/Navigation Aids Maintenance
Lanmar Aviation: T-Hangar Rentals/Sales and Aircraft Maintenance
Mystic Jet Center: Aircraft Fuel & Service
Survival Systems, Inc: Safety and Survival Training including a water crash survival education facility  (U.S. headquarters)