Across Three Centuries, Fairview Offers Compassion and Care for Seniors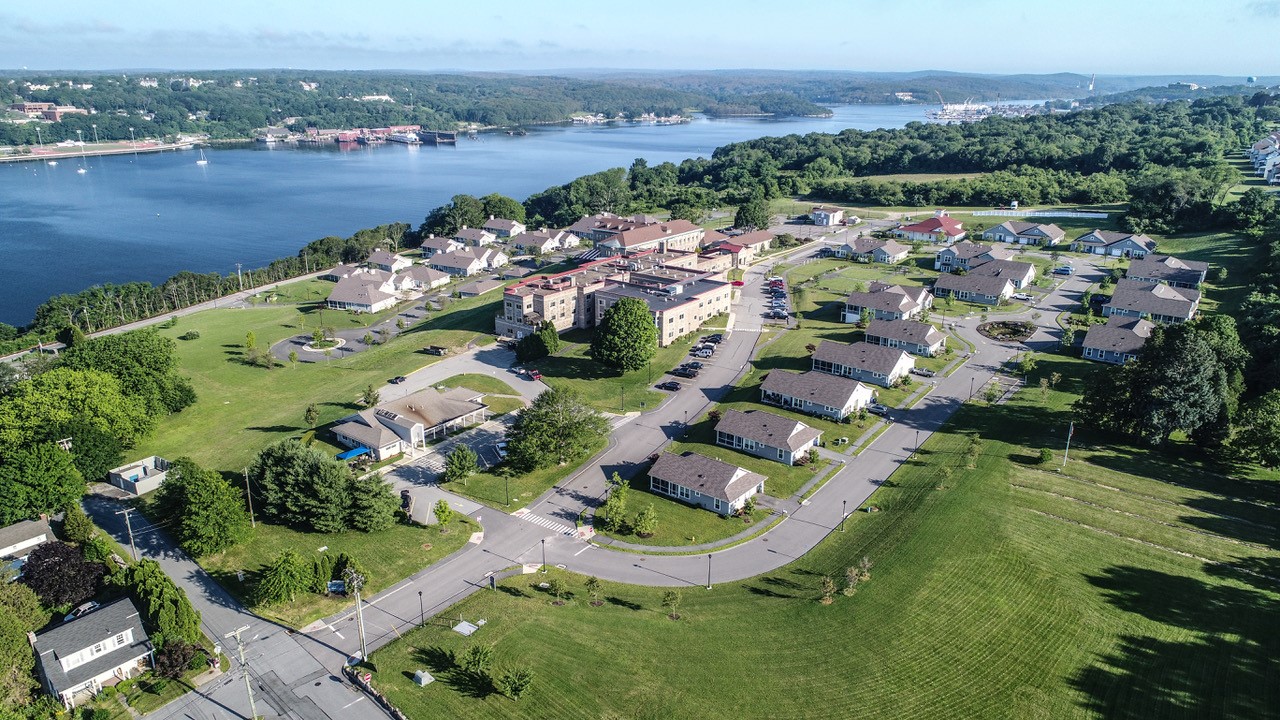 From its perch overlooking the Thames River, between the Gold Star Bridge and the Sub Base, Fairview has provided senior care and housing since its founding in 1892 – well before the first submarine passed below. And before the first car crossed the Gold Star. Even before the first car.
Yet its service model remains the same since Fairview was founded by the Connecticut Independent Order of Odd Fellows Grand Lodge as a non-profit provider of senior housing and healthcare.
"This is a special place," said executive director Billy Nelson. "Friendship, love, and truth never goes out of style."
That motto now serves as a beacon to all. No longer a members-only facility, Fairview is open to all regardless of ethnicity, gender, race, sexual orientation, religion, or other social identity.
Serving Seniors Across the Spectrum of Needs
One of just 24 continuing care retirement communities (CCRC's) in Connecticut – the only other one locally is Stone Ridge in Mystic – Fairview comprises a 100-bed nursing home for long- and short-term care; Friendship Manor, 24 moderately priced apartment units in one of the 35-acre campus's two original stone buildings; and Thames Edge, a development of 40 buy-in homes that offer maintenance-free living and access to Fairview's health care.
Nelson calls Fairview a "niche model", its combination of facilities and housing a different category from the 200-plus nursing homes across the state. It is the only only five-star facility in Connecticut, based on rating criteria from the federal government's Centers for Medicare & Medicaid Services. The rating places Fairview among the top 1.5 percent of nursing homes nationwide.
Nelson noted that Fairview has earned its five-star rating for 10 consecutive years. "It's not like we're a one-hit wonder," he said.
Nelson credits Fairview's 200-person staff for its success and popularity, which is reflected in its full capacity, low turnover, and waiting list for openings.
"They deserve so much credit for our success, from their work ethic to the values based on the Odd Fellows concepts," he said. "It sounds old-fashioned, but they're the real deal."
Pulling Together in the Face of a Pandemic
The pandemic that took hold three years ago were particularly disruptive to facilities like nursing homes, but Fairview weathered the worst of it despite facing many of the similar challenges.
"Going into the pandemic, Fairview had an outstanding reputation," Nelson said. "If we didn't have a solid foundation going in, we certainly were not going to come out with a solid foundation."
To allay concerns when access to Fairview was restricted, Nelson and his staff filmed videos set to the song "Lean On Me" that it sent to family members, showing their loved ones being cared for by the staff who had assumed even greater responsibility for their care.
"I think there was a deeper sense of trust among the residents, their family members, and staff," he said. "A greater sense of partnership emerged."
Going forward, Nelson said, Fairview is planning a multimillion-dollar project to add additional independent living, assisted living, and enhanced facilities for nursing home residents, all aligning with its culture of independence, compassion, and community
"Our strategic plan for the future is to re-balance our service lines to include more independent living units," he said. "I think this will allow our organization to grow even stronger for the benefit of all of our stakeholders."