Astin J's First Year: Family Food Served with Love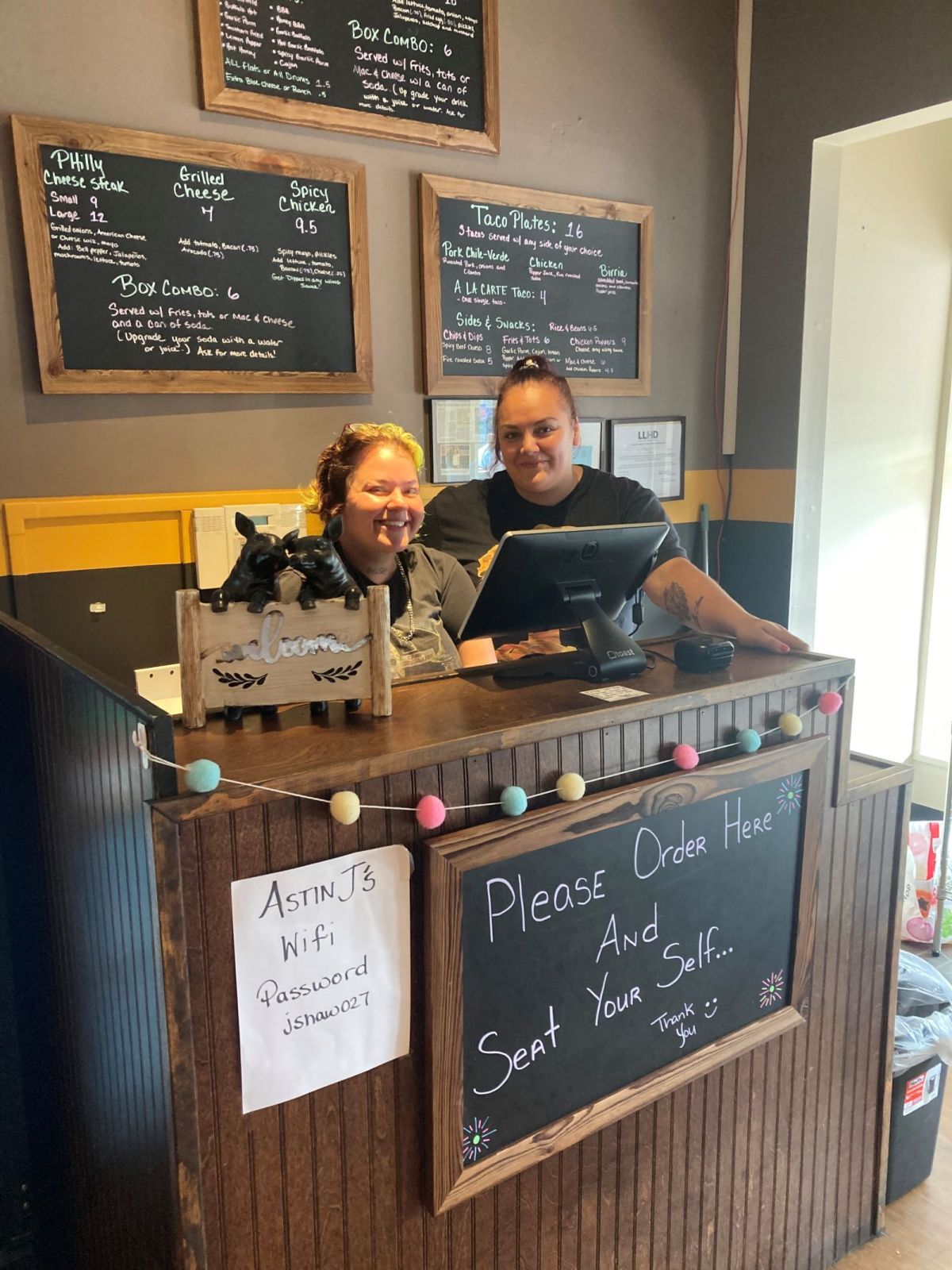 25 Jul 2023
Small Business
Astin J's, which will celebrate its first anniversary in Groton Shopping Plaza in September, is a family restaurant no matter how you define it.
Justin Shaw, its 35-year-old chef and owner, learned his love of cooking from his father, who owned restaurants after leaving the Army. His wife, Amanda, was the hostess until the couple had their third child in the spring, and her sister, Destiny, now handles her duties in the dining room.
Drawings with crayons and colored markers are loosely arranged on the walls, the product of children of customers and the Shaws' eight-year-old son, Astin. And the menu is filled with items both adults and kids can appreciate: macaroni and cheese, wings, chicken tenders, burgers and hot dogs.
"Kid food for adults," is how Justin describes his fare. "We put a lot of love into it, and a lot of flavor."
Perhaps that's why they've been busy since they opened, at 762 Long Hill Rd. in a space previously occupied by a Thai restaurant where Justin once worked.
"We know a lot of people and we did a lot of promotion before we opened, but I still was surprised it got as popular as quickly as it did," Justin said. "We must've had 100 reviews on Google within our first six months."
Taco Time
Driving the popularity was Astin J's birria tacos, which come two to a plate with extra sauce, Spanish rice and yellow rice and beans.
"We sell about 100 orders a day, and we typically sell out. It's a rare day we don't," Justin said.
Like the spicy chicken sandwich, another signature item, Justin said he worked hard to get the recipe right before the restaurant opened. "For the tacos, it's a lot different than we make at home," he said. "I had to tweak a few things, because we like it pretty spicy at home."
Astin J's is open from 11 a.m. to 7 p.m. during the week (closed on Sundays and Mondays), until 8 p.m. on Friday and Saturday. Everything on the menu is prepared fresh every day, Justin said, which is different from many of the items he prepared when he was cooking for many all at once when he worked for Groton Public Schools and Apple Rehab in Westerly. Now that he's had nearly a year to gauge his customers' tastes and preferences, he said he's looking to add additional wings flavors and additional sandwiches.
"Now that I have a commercial kitchen to work in, I can work on some new things," he said.
Celebrating Customers' Creations
Justin said he's most proud of his food and Astin J's customer service, but noted that he's also enjoying the contributions from his youngest customers. He credits his sister-in-law Destiny for the idea of providing quality drawing paper along with markers and crayons as placemats at their tables.
He explained how his son Astin, who is autistic, draws non-stop at home, and would tape his drawings to the front of their house. "The actual front of the house," he emphasized.
"We thought it would be a good idea to let kids draw at the table and then hang their things up. We're thinking about adding photos and artwork to the walls as we go along, because our community supports us, so we want to support them," he added.
Looking back on the first year of his first business venture, Justin said he's now more comfortable in their five-days-a-week routine (closed Sundays and Mondays), "but it was definitely overwhelming for a while. It's mainly me in the kitchen, so at times it's been difficult," he said, before adding," but I love it."