Just Like Family: 32 Years of Comfort Food from Paul's Pasta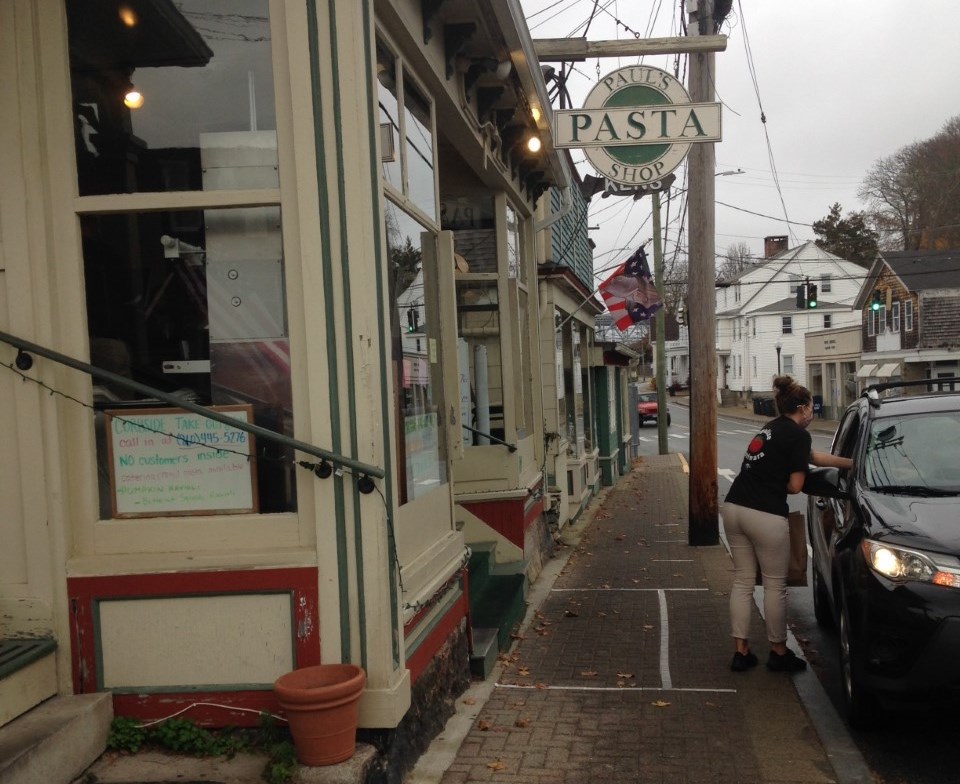 24 Nov 2020
Small Business
Were it not on Thames St. in Groton, backing up to the Thames River and nearly in the shadow of the Gold Star Memorial Bridge, Paul's Pasta Shop wouldn't be out of place on Federal Hill in Providence or the North End of Boston -- a family-run business that has fed multiple generations of families and familiar customers homemade Italian fare.
What the husband-wife team of Paul and Dorothy Fidrych began as a small pasta shop in 1988 evolved into a full-service restaurant, serving specialties such as Fettucine Alfredo and both a meat and a five-cheese lasagna six days a week (closed Monday) from 11 a.m. - 8:15 p.m. The original plan, Paul said, was to open a simple pasta shop, but the demand from customers spurred them to add more and more tables. (Before the pandemic, seating capacity was 45 inside and 32 on the deck in back overlooking the river. Currently, all business is takeout).

"The people wanted this," he said, "so we switched gears a little bit."

Finding a Niche

Paul grew up in Stonington, Dorothy in Uncasville. Both had culinary backgrounds when they met, he after graduating from the Culinary Institute in Hyde Park, N.Y., she from Johnson & Wales College in Providence. Married in 1984, they wanted to open their own business, and inspired by a pasta shop they had seen in Deep River, settled on making their own pasta.

"We didn't want fall into something like a Chili's," Paul said. "We wanted something that was unique and different. And there being no competition at all at the time, we filled a niche."

They took over a former restaurant at 223 Thames St. in Groton and slowly developing a following. They now attract customers from both sides of the river, from Electric Boat and Pfizer employees to the Coast Guard and Connecticut College communities. What they both take pride in is having served the same meals to generations of families.

"We have several families where we're now serving the fourth generation," Paul said. "The younger members are being indoctrinated to fresh pasta through us."

Simple Ingredients, Appetizing Results

All fresh pasta makers use the same basic ingredients: flour, eggs, and water. What differentiates their product is the proportions. Paul said their pasta is a mix of durum (for its binding properties) and semolina (for color and chew) flours, "with a little more durum than semolina." The goal is consistency, so the mixture isn't clumpy too soft.

Its advantage over dried pasta, in addition to its freshness, is that it cooks quicker -- in 1-3 minutes, compared to up to 12 for dried pasta, according to Paul. "And when you bite into it, there's a little more chew to it," he added. "That's al dente."

Teamwork And Agility Keep It Going

Paul's Pasta Shop opened when their first child (they now have three sons: 28, 31, and 33 years old) was just six months old. Dorothy spent most of the early years of the business raising their children, but now she and Paul have settled into their own routines. Dorothy handles dining and take-out customers in the front of the store, and Paul works the kitchen.

Together, they have handled many challenges over the years. When the Atkins low-carb diet became popular, "nobody wanted to eat noodles," Paul recalled, so they created a salad menu and added pasta-free meals. Later, they added a gluten-free pasta to their offerings. The past year has presented the greatest challenges. Because of the pandemic, sales are down 40 percent and they've had to lay off staff.

But Paul said he considers himself lucky because they already had a strong takeout business, in addition to years of loyal patrons. In addition to many shared memories of celebratory dinners and homemade food, that's what four generations of customers will do for you.