In Business For A Century, Johnson's Covers Groton's Hardware Needs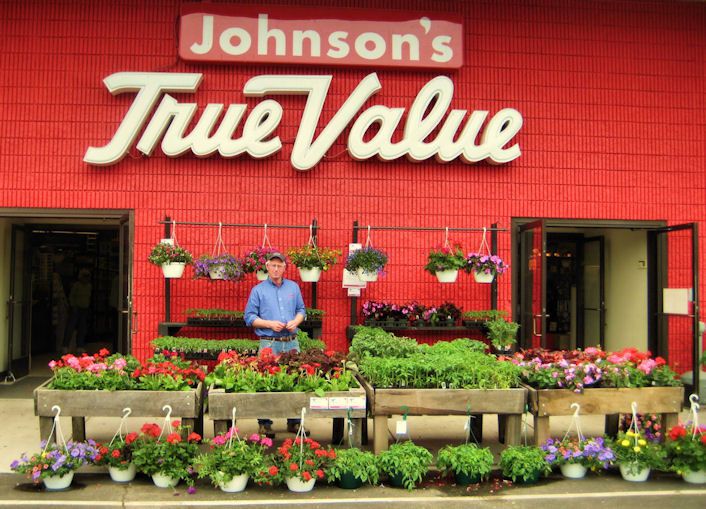 28 Sep 2021
Small Business
Johnson's True Value Hardware at 40 Fort Hill Road has been in business for 100 years, and will celebrate its centennial in 2022.
Since opening in 1921 as KUM-SEE-ME gas station — a name William A. Johnson and his wife Lulu saw on a restaurant on a trip to Vermont and gave the owners $5 to use for their new enterprise —Johnson's True Value Hardware also operated as a grocery store and deli and butcher shop before adding hardware to its offerings.
Under four generations of Johnsons it has survived fires and floods, depressions and recessions, and big-box stores and online shopping with a simple principle: "When people need you, you have to be there for them."
Serving Its Neighbors
Those are the words of Bill Johnson, 46, who took over the operation full-time when his father (also Bill Johnson, the grandson of founders Bill and Lulu) retired two years ago. He was referring to the historic flooding along the southeastern Connecticut shoreline in 2010, when the store ran out of submersible pumps and he drove first to New Hampshire, then after returning to Groton, to Allentown, Pa., on consecutive days with pumps for local residents.
But Johnson could also have been referring to their daily business, which caters to its customers with services and service like no other hardware store in the area. An employee is always nearby, ready to direct you to an item, explain how to use it, or suggest other options.
Johnson's Employees Have All The Bases Covered
"We have the best employees," said Johnson, who has worked at the store since 2006 after spending time working in finance after graduating from college. "I don't have to worry about anything, because everyone knows what they're doing."
Johnson said all have been with him for at least 10 years, with Steve Blake leading in seniority with 25 years. "He's more like a brother to me now," he said, then chuckled, "A lot of people think he is a Johnson."
In addition to products for all hardware, lighting, plumbing, and home improvement needs, Johnson's has a complete key-cutting department, provides pipe cutting and threading services, and its repair department handles everything from small engines to windows and screens.
And every spring it sells chickens.
After previously leasing out the space for equipment rental, Johnson's bought out the owner and expanded its power-equipment business, which now covers virtually all home ownership needs, including lawn and garden.
More Years of Service Ahead
As for future plans, Johnson, 46, said he'd like to provide more lumber offerings, as well as the materials needed for home recreational projects. "We're always looking for new opportunities and ways to stay relevant," he said. "With what you can get on the Internet, we have to sell ourselves."
The biggest threat to the family business may have been in 1981, when faulty wiring in the basement started a fire that burned everything to the ground. "I was five years old when it happened," Johnson said, "but I still remember it. There were 11 fire trucks here."
With help and support from the community, Johnson's rebuilt and opened the current 16,000-square-foot building the next year.
Most customers now are regulars. "That's what keeps stores like this going," Johnson said. "Local people just looking for help."
Tom the cat is part of the operation, but customers are welcome to bring in their own furry companions.
Smiling broadly, Johnson said, "If they're friendly, we're friendly, too."