Local Kayak Designer Gains Global Following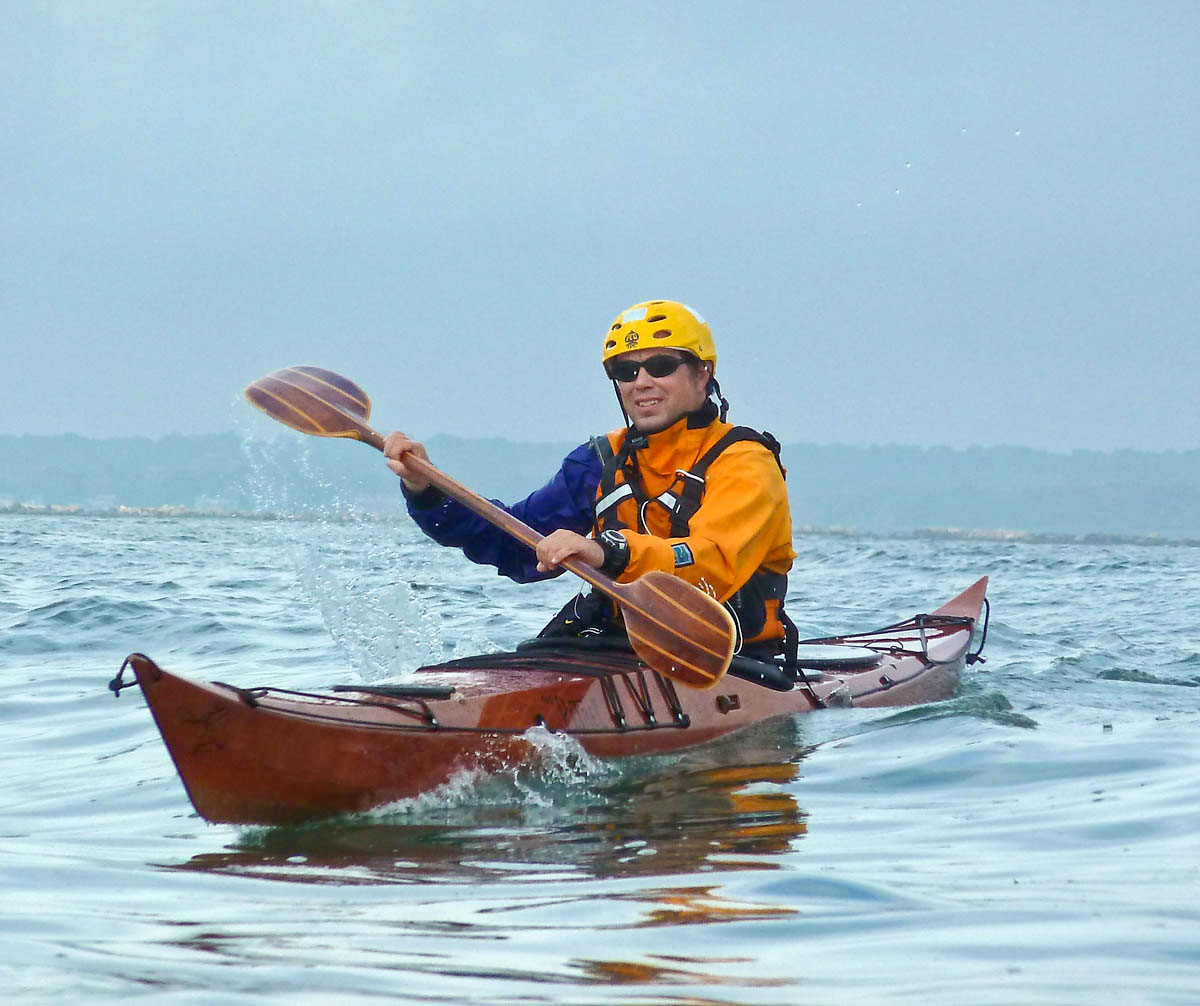 17 May 2022
Small Business
When Nick Schade, the owner of Guillemot Kayaks on the west bank of the Poquonnock River, was growing up in Glastonbury, his dad's idea of weekend fun was to take his two boys to Bushy Point and Bluff Point for some canoeing.
Together, the three of them made a kayak from a kit, but the finished kayak went to Nick's brother. Standing in his workshop, amidst two nearly finished sea kayaks and all that's needed to build more, he said, half-jokingly, "I've been compensating ever since."
Although he studied electrical engineering at Clarkson University in upstate New York, Schade began designing kayaks on his parents' living room floor, and continued during his nine years working at the Naval Underwater Sound Lab in New London. He owned a whitewater kayak, but he needed a sea kayak for trips to places like Napatree Point. "I figured if my design looked pretty good to the eye, it would look pretty good on the water."
Known the World Over
Schade, 58, may be the most accomplished sea kayak builder in the United States, and his boat designs for do-it-yourselfers are in demand worldwide. He estimates that he's sold "thousands" over the years, to customers from Australia to Dubai to the United Kingdom and throughout the United States.
Although he calls his mail-order designs "my bread and butter," he also builds custom sea kayaks, which can take as long as a year to complete. His designs, though, are more than examples of expert craftsmanship. The Museum of Modern Art in New York considers them works of art. One of his designs — the 18-foot "Night Heron" — has been part of their permanent collection for 20 years, and periodically is on display in its Architecture and Design department.
The publicity and word of mouth from being in an exhibition at MoMA, Schade said, "got the ball rolling," and led to a number of commissions. "I was just making boats because I like making boats. It wasn't my idea to make art," he added. "But it did, so now I can put a price on these and justify it."
Designs for Fellow DIY-ers
While he's thankful for the opportunity to build boats for individual customers, he said he's more "comfortable" selling sea kayak plans to people who want to build their own. "They're my people, because that's where I'm coming from," he explained. "I'm just a kayaker who wants a really nice boat I built myself."
Schade's sea kayak plans and instructions sell from $129 to $149. He works with another company that separately sells all the materials needed to complete construction, typically from $1,500-$1,800.
"For a lot of people, I'm selling them a dream," he said. "They might not even get to it. They might take that drawing and stick it up on a wall in their office. For others, it's something to make with their children and grandchildren, or they're into woodworking. There are so many reasons for it."
As opposed to the plastic-molded, recreational kayaks seen most often near shorelines, sea kayaks are built for longer paddles, and their sturdy design makes paddling more responsive and efficient in choppier waters.
A Coach, Teacher, and Guide, Too
Schade also is involved in weeklong clinics for advanced kayakers, boat-building classes, and sea kayak retreats off the coast of Maine later in the summer, but his greatest satisfaction is simply sharing the dream of a quality homemade kayak.
"There are people in prison who have my books and that's what's getting them through their ordeal," he said. "Or their spouse just died, and this is their therapy. That's what I love about selling the plans. I'm making some impact in people's lives."
Links
Guillemot-Kayaks.com
WoodenKayaks.com
DriftwoodKayak.com article