Leaving Law Enforcement Behind, Dan Kenyon Paints Himself a New Career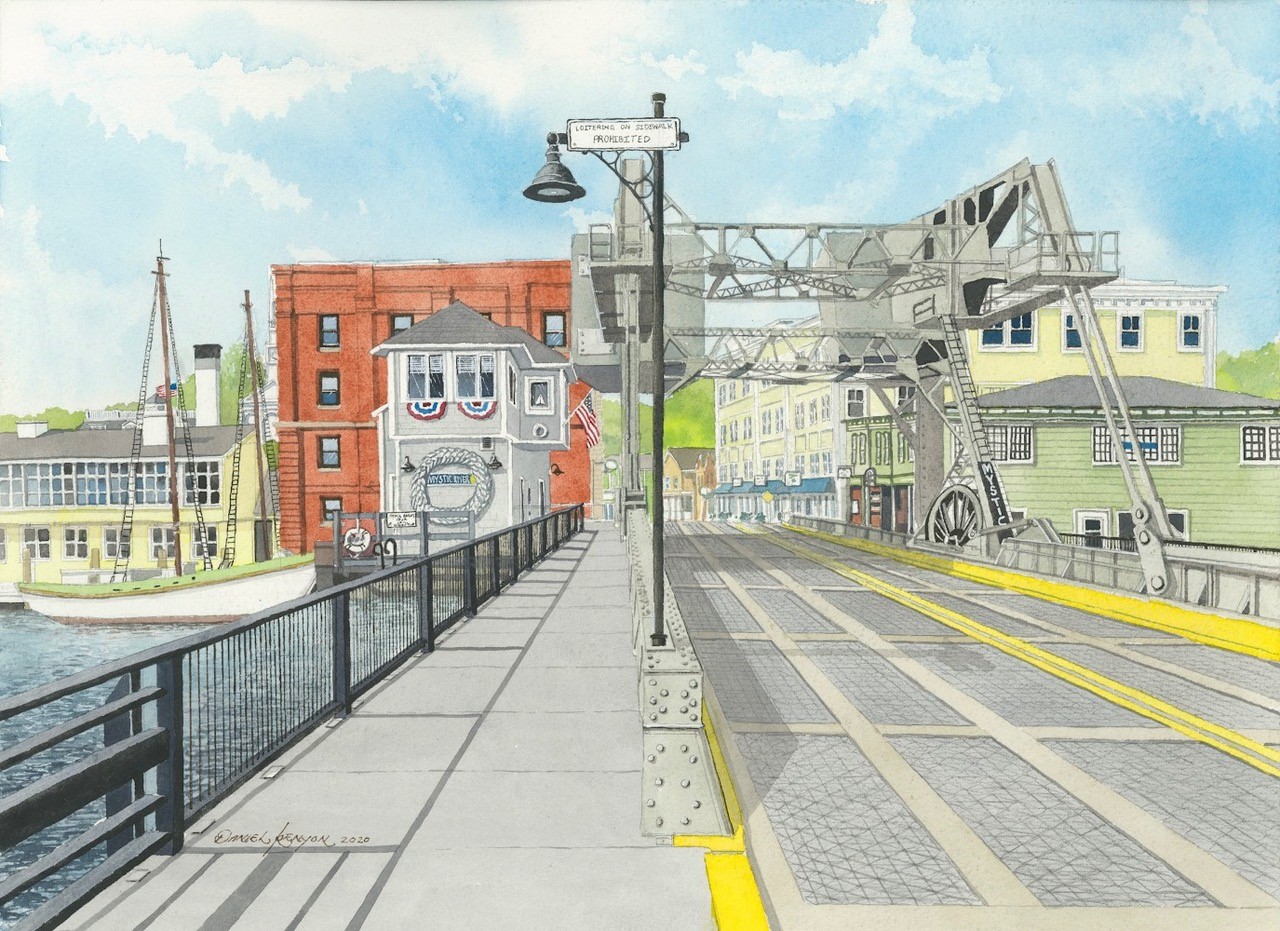 14 Jun 2022
Small Business
Dan Kenyon, then a patrolman for the Town of Groton Police Department, had been working security for a number of years at the Mystic Outdoor Arts Festival when in 2013 he struck up a conversation with a vendor.
The vendor explained how he had become a professional artist, and after the two talked awhile, Kenyon set for himself the goal of exhibiting there in a year's time.
Kenyon always had a talent for drawing and had taken advanced art classes at Ledyard High School, but work and family had always taken precedence over whatever artistic drive resided within. His only completed artwork was a mural in his young daughter Addison's bedroom of a beach scene from the pre-school television show, "Jake and the Never Land Pirates."
"I didn't have much drive before," Kenyon said. "That conversation inspired me to paint."
Over the next year, Kenyon taught himself to paint in his chosen medium, watercolor. From "tips and tricks" he picked up on the Internet and from YouTube videos, he slowly compiled a portfolio.
Painting what's familiar
Kenyon exhibited in Mystic in 2014, and his bright watercolors of familiar scenes in southeastern Connecticut — downtown Mystic with the iconic bascule bridge in the foreground, a submarine passing Ledge Ledge, The Ocean House in Watch Hill — found an audience. He now finds himself in demand for a variety of projects as well as a full-time artist after leaving his 17-year career in law enforcement in March.
"Once I realized I could be as successful as an artist and make as much money as working for the town, I decided to help out my family in another way by selling my art," said Kenyon, 40. "Before, I only had time to paint on the weekends and after the kids went to bed. Now I'm able to get what used to be four months of work done in three weeks."
These days, the challenge for Kenyon is apportioning his time among his many artistic pursuits.
A Varied Portfolio
Through the contacts he's made over the years he takes on commissions, and he's transferring some of his local subjects to stickers after teaching himself to make digital art on an iPad. He's also finishing the illustrations for a children's book by Ebbie Young, wife of Sift owner Adam Young, and has found time to work on murals, such as the Mystic streetscapes that wrap around the interior of the cupola atop The Standard.
"That was 120 hours of work, which I did on days off over five months," said Kenyon. "It's the largest thing I've ever done. I'm not a muralist, but I didn't want to let them down."
Kenyon, a UConn grad, also has tapped into a unusual client base: realtors who present their sellers with a watercolor of the house they're leaving as a closing gift. Since starting, Kenyon said he's had "a flood of requests, from here to Virginia." The commissions arrive via word-of-mouth from previous customers and realtors. "I've developed a pretty large network over the last 10 years," he said "The internet helps, too."
More original artwork ahead
Consequently, Kenyon hasn't had time to replenish his inventory of originals, which he said he needs to do before exhibiting at local art festivals. He enjoys the festivals, he said, because it enables him to spend more time with his wife Kerie.
He sells his originals for $100-$230 and prints for $30-$45. Both are available at Finer Line Gallery in Mystic and Carson's Store in Noank.
Kenyon describes his paintings as 'idealistic reality'. "It's like how you always remember a place in your mind," he said. As for what catches his eye as a subject?
"It's when I can't get an image out of my head." And when that happens, he captures the image for others to appreciate.
For more information:
https://www.instagram.com/dkartwork90/
https://www.etsy.com/shop/DKartworkETSY