More Space, More Style: R&B Apparel Plus Doubles Down on Groton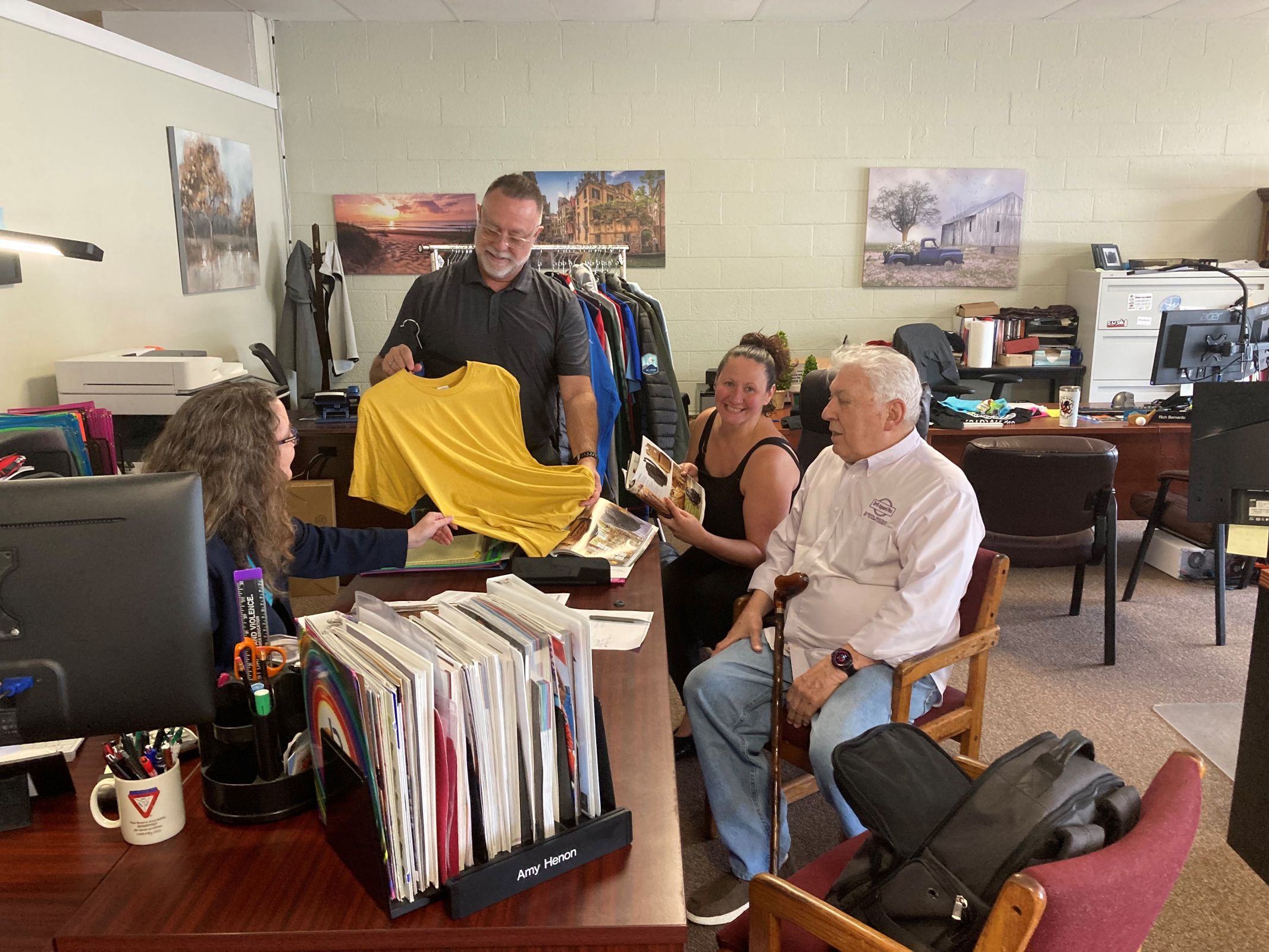 23 Aug 2023
Small Business
When R&B Apparel Plus, the area's leading provider of apparel printing and embroidery, needed room to expand in 2021, it found the perfect space less than 100 feet down the line of storefronts in the back of the Groton Shopping Plaza.
"We just rolled everything down the sidewalk," laughed Rich Bernardo, the company's owner, who had benefitted from good fortune before.
That's because R&B came into existence after Tee's Plus, located on Route 184 in Groton, went out of business in 2012. Bernardo, who already had 35 years in the screen-printing business, along with two other former Tee's Plus employees, essentially got a running start with R&B.
R&B assumed all of Tee's Plus's printing contracts and continued to service them, as well as its customer base and its considerable artwork. "We kind of rolled into one from the other," Bernardo said. "They really helped us."
From Cramped to Comfy
But R&B has grown considerably on its own, as the move into the roomy, 7,000 square foot space (from 3,000 square feet at its former location) attests. Bernardo, sales/office manager Amy Henon and customer service manager Brandy Bourdia occupy desks on the right side of the office in front, with bright displays of clothing from different vendors filling the rest of the space, a far cry from R&B's old space where piles of boxes often prevented the three from seeing other.
When R&B opened, Bernardo explained, it was just a sales office. It had no equipment to do its own embroidery, sub-contracting all such orders. Then six years ago it bought out TechnoLogo, which had been its sub-contractor for embroidery, and bought its equipment as well as its customer base. More good fortune.
Now, with rare exceptions, R&B can handle all its orders in-house. "It enables us to provide better customer service, and it gives us more control over the whole production," Bernardo said. "Plus, it saved us some money."
Bernardo said R&B does a lot of business with the Navy and the Sub Base, as well as Pfizer and Electric Boat, and many local businesses.
"That's why we stayed on this side of the river and why we just shifted down the Plaza when we needed to expand," he said. "Groton is our staple."
Its larger space has enabled R&B to invest in the latest printing technology, DTF (Direct To Film), which occupies a separate room in the back of its production and shipping room. DTF also is a cleaner, ink-free process, in which artwork is produced on strips of film that is then pressed onto garments.
Products Aplenty from Name Brands
R&B also has taken advantage of the quality and variety of clothing from vendors such as North Face, Charles River, Nike, Adidas, and Carhart to appeal to increasingly savvy customers.
"Back in the old days, customers made their decisions strictly on price," Bernardo said. "If an item was $2 less than the same item from another vendor, they said 'I'll take it.' Now, they come in and ask for specific vendors."
Not that he's complaining. Knowledgeable customers are what have built the successful business that R&B has become, providing enough new business through word-of-mouth and referrals that Bernardo can't ever imagine needing another move.
"We're not expanding any more than we already have," he said. "I thought I just wanted to be a sales office. How'd we get this big? I didn't even notice."