Culinary Tourism is a Powerful Economic Engine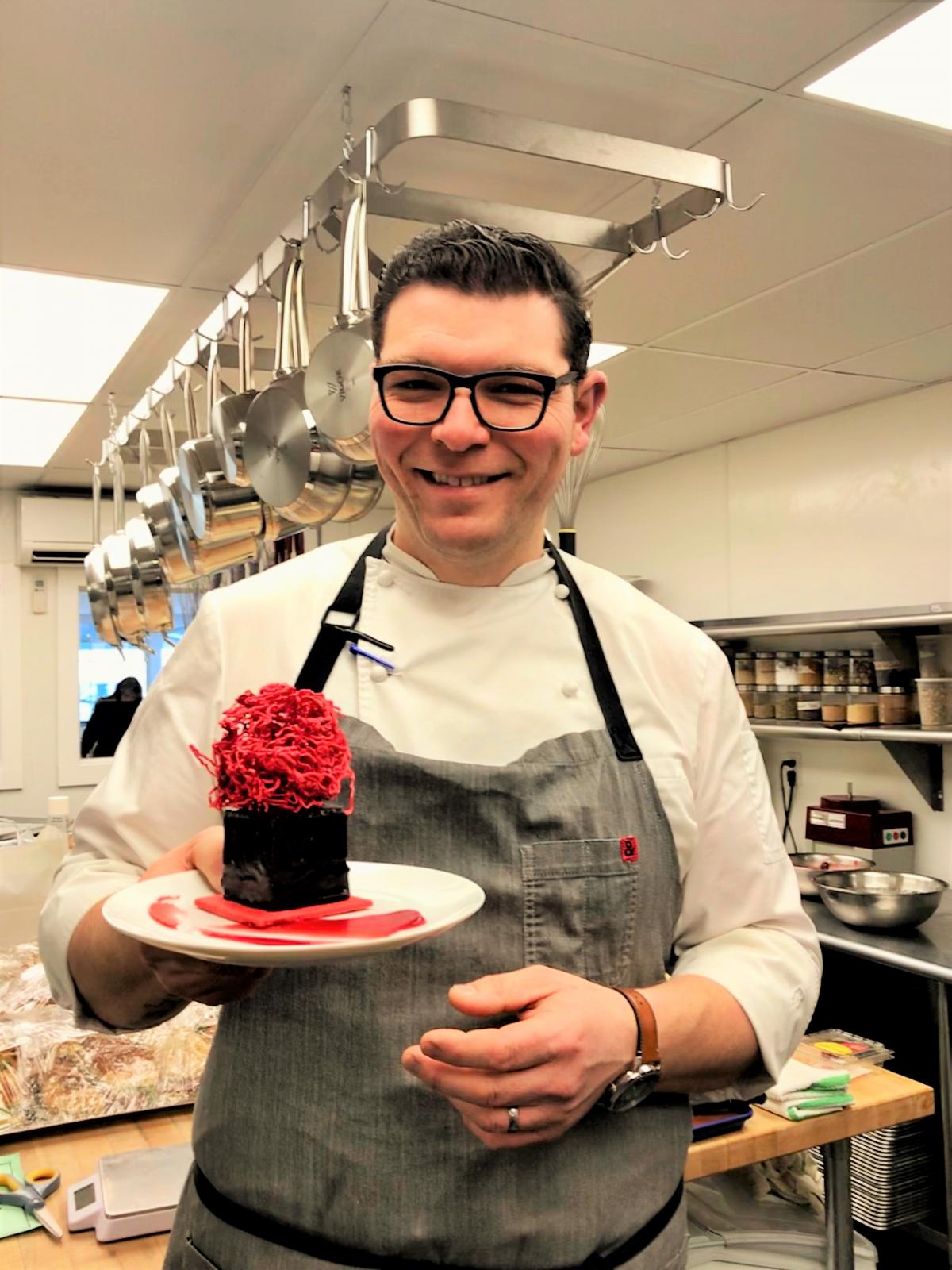 7 Feb 2020
Economic Development
Imagine the pleasure of eating at the best restaurant in Southeastern Connecticut, then at an iconic CT Restaurant Hall of Fame eatery, then indulging in sweets prepared by the Best Baker in America. All three spots are within a half mile of each other in the Mystic section of Groton.
The CT Restaurant Association recognizes Oyster Club as the best restaurant in Eastern CT for outstanding farm and sea to table cuisine with ingredients raised and harvested close to the restaurant. The Captain Daniel Packer Inne was inducted into the CT Restaurant Hall of Fame for over 30 years of expertly balancing traditional New England fare with creative international cuisine in their pub and elegant dining rooms. Locals adore this place which provides allure for tourists who "discover" it. Food Network proclaimed Adam Young of Sift Bake Shop as the Best Baker in America which launched a tremendous business expansion to accommodate fans who crave edible works of art and a glimpse of the celebrity chef/TV star. And we're only getting started!
Dan Meiser shares the vision he had when Oyster Club opened eight years ago, "In a region where restaurants catered to summer tourists, we decided to create our own tourists by creating a culture that brings people to us from all over the country. We have access to not only world-class farms and fishing communities, but world class artisans, chefs, brewers and bakers."
That vision expanded to the 10-generation farm owned by his wife's family. Stone Acres Farm was resurrected from inactivity and transformed into a working farm providing produce to local restaurants, food education to kids, and a beautiful location for events. Today, sophisticated diners travel to Mystic specifically to dine at highly-acclaimed restaurants and highly-rated eateries as determined by YELP and other food review apps or because of TV or social media influence. Food is accessible and universal and we love to share our own photos and opinions.
Food as Economic Fuel
Culinary tourism feeds the economic engine in town with big revenue and expanding opportunities. Dan Meiser added two popular restaurants to Mystic and continues to invest in the area because customer support persists. Taxpayers benefit from those who eat, shop, tour, and stay overnight. As more people discovered the area's charm and history, spring and fall filled with guests. Then came Christmas shoppers and New Year's Eve celebrants, romantic getaways and St. Patrick's Day parade goers. Natural beauty and increasingly good shopping continue to draw in visitors but delicious food brings them back again and again even when the weather isn't great or they don't feel much like shopping. Moreover, shopping entices them once they're here.
When the movie "Mystic Pizza" came out 30+ years ago, everyone wanted a bite of that "slice of heaven" and a photo of themselves with the colorful sign. Now, foodies plan entire trips around meals. Instead of heading to Boston or New York, diners find Mystic readily accessible by car, train, or boat with a relaxed vibe and breathtaking views. Seafood is harvested directly from local docks while local meat, cheese, beer, wine, and pastry abounds. This vibrant community attracts culinary talent which perpetuates innovation, excellence, and more visitors.
A pairing of craft beer from Beer'd Brewing Company and delectable food from Mystic Cheese Company provides two reasons to visit Leonard Dr. near the Groton New London Airport. Seven years of success at their flagship location in Stonington prompted Beer'd's expansion into Groton close to Electric Boat, Pfizer, and a beer-loving population.
Co-owner, Aaren Simoncini, says the 2 hour wait to get inside on opening day and serving 1200 drinks that day means they were right to proclaim, "If we brew it, they will come." With a grin he says, "Beer and cheese is a match made in heaven."
Mystic Cheese Co. delivers a panini-style grilled cheese sandwich right to the Beer'd tap room. The crunchy-chewy exterior and cheddar, Swiss, Provolone, and Taleggio filling is irresistible. Social media and TV publicity already draw in new fans from afar.
Lobster Benedict from Carson's Store in Noank is adorned with whole, tender lobster claws and the Reuben sandwich is packed with outstanding house-made corned beef. Surf and turf this delicious inspires repeat meals and visitors adore discovering the fantastic food and old-fashioned charm locals have appreciated for decades. Kelly tells me a customer from the mid-West orders the same lobster, bacon, avocado, and cream cheese omelet on every visit to the area. Ford's Lobster is open year 'round and serves breakfast including local seafood but their claim to fame will always be their namesake lobster. Nearby Abbot's Lobster in the Rough and Costello's Seafood are packed May-October as families return generation after generation. Sea air and rustic charm add fuel to the desire to travel for a special meal, to create new memories or reminisce about old ones. You may be a culinary tourist if you plan your arrival in town to accommodate a favorite meal or start planning the next meal while eating.
Buttery, flakey croissants and edible works of art deserve the monumental praise heaped upon them by the Food Network and customers who become fans. Adam's chocolate cherry Buche de Noel was featured on "The Best Thing I Ever Ate" TV show but the carrot cake roulade was also in the running for that honor. Fans flock in from all over the country to taste a bit of perfection and bask in reflected glory. Sift provides an exciting professional work environment for 100 while producing thousands of croissants and French macarons. Adam shares, "Our goal is to provide a luxury experience for everyone and not just for those who can afford upscale dining." With a 90 hour work week and a tiny net profit, their business is a labor of love.
Adam Young and his wife Ebbie also say, "We are humbled by visitors who travel to visit Sift. A husband and wife from Florida came to Sift for a surprise birthday weekend for her 30th. She was an avid baker and Food Network fan and we had a blast helping her husband create a memorable birthday getaway in Mystic. One of the best parts of this experience has been meeting folks from all over who share a deep love of pastry, baking, and connecting with people ... just like us."
If you visit the Submarine Force Museum, you're near Paul's Pasta which serves huge portions of freshly-made pasta at bargain prices at the edge of the Thames River. Comments from out-of-state fans who miss the place make it clear they plan a trip to Paul's Pasta and decide later if they also want to sight-see or shop. Food first, always. Away from the water, Ortega's Mexican Restaurant, has a fiercely loyal following while Chester's Barbeque and Mirch Masala prove there's something delicious for every craving.
A key to gathering new fans is to serve something one cannot get anywhere else. Although Olio's lobster bisque has an enthusiastic following, its California lump crab wonton nachos are a uniquely tasty indulgence. British fare such as bangers and mash, Lancashire hotpot, and Scotch eggs draw UK food fans to Friar Tuck's Tavern. Samurai Noodle's luscious bowls of house-made ramen and tableside hibachi grilling offer a transformative dining experience that is unusual in a New England town. Mariner's fish and sea scallop dishes exemplify classic coastal seafood while Chapter One's dry-aged steak enhance any special occasion but these are only my opinions. On social media, your opinion matters too, and isn't that the fun of the food scene?
Economic Impact
Dan Meiser shares the economic impact of the food industry, "Last year Connecticut's restaurant industry employed 165,000 people, placing our industry as the second largest employer in the state of Connecticut behind the state itself."
Each restaurant pays taxes ($520 million in CT sales tax revenue last year), purchases products and services, and supports charitable and community causes. These are our neighbors and friends. Consistently great food attracts visitors for a day, weekend, vacation, or special occasion. This volume of tourists keeps local taxes reasonable and is a foundation for regional stability. We can each help by eating locally and sharing our dining enjoyment with friends and family online and with food review apps like YELP. Please help to spread the message: "Groton/Mystic is a great food destination."
Create new memories with family and friends with the best food in New England. What is the best local food you've eaten? Let us know on our facebook page!
#culinarytourism; #EatMystic; #seafood; #farmtotable; #seatotable; #bestfood; #BestBakerinAmerica; #BestCTrestaurant; #AdamYoung; #siftmystic; #bestfoodGroton; #BestFoodMystic; #dineGroton; #DeliciousMystic; #destinationdining; #shorlinedining
About the Author
Elizabeth Saede is a local author of Lobster Summer. She can be reached by email at Sunshine06378[at]gmail.com.