Groton's BlueTech Pioneer ThayerMahan Experiencing Meteoric Growth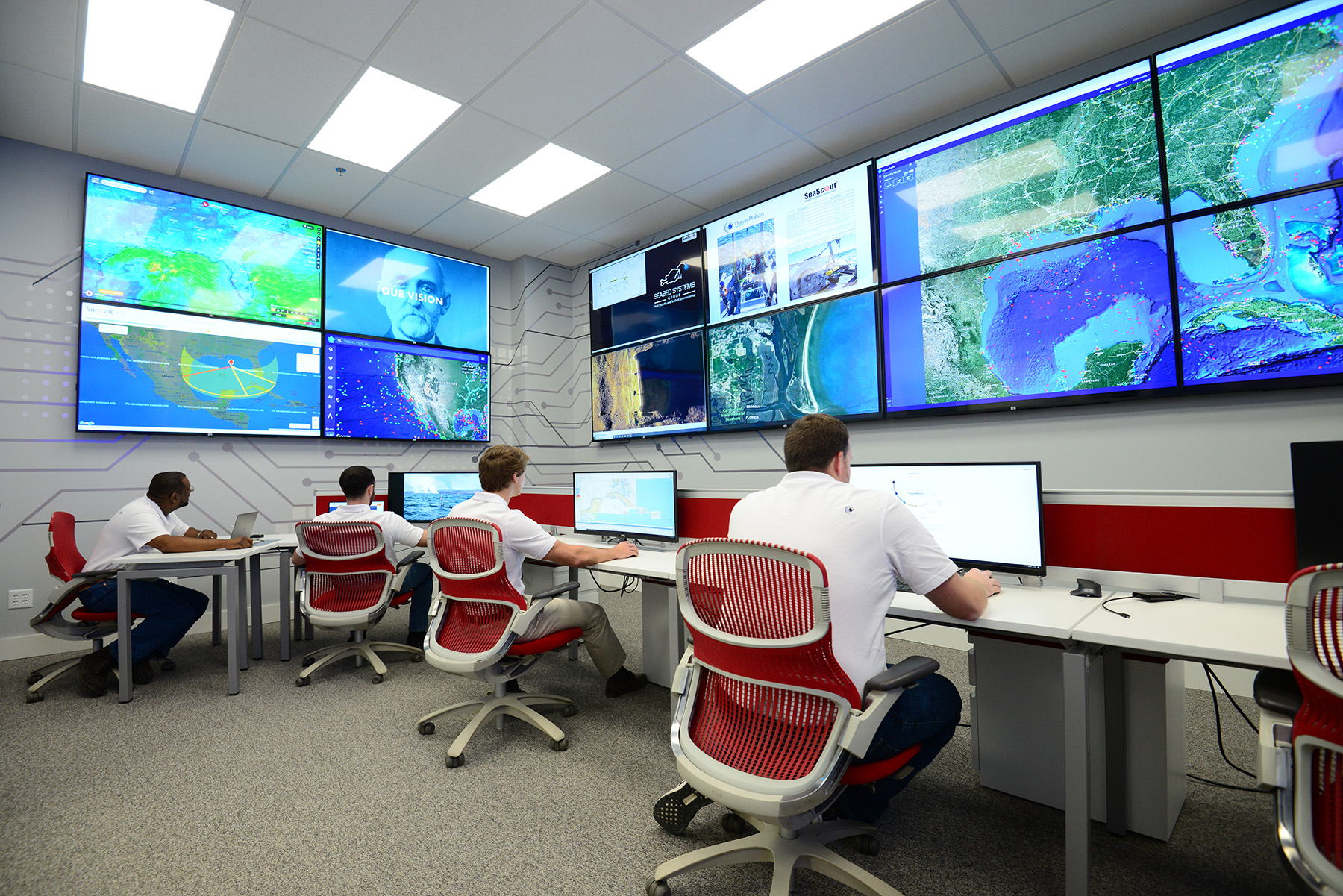 In March, ThayerMahan, a Groton-based BlueTech company was awarded part of $8 million in federal funding for offshore wind research and development. The company is a leader in Groton's BlueTech industry and one of several growing in the region.
ThayerMahan was founded by Navy veterans concerned with growing undersea threats. "We were on a $3 billion submarine with 150 men in the 1980s. We have more threats today than back then, but with 120 fewer submarines in the water. It became clear that we needed to find ways to supplement the Navy and Coast Guard's mission with maritime awareness and unmanned systems," said Richard Hine, co-founder and COO of ThayerMahan. Mike Connor, CEO and co-founder began to consider how their company could help to shift Alfred ThayerMahan's naval strategy to the 21st-century to support big capital assets with unmanned assets that are distributed and less expensive. He found a way to do so while living up to their mission of protecting our nation and its vital interests.
Four years after launching, the company is designing, manufacturing, and operating systems throughout the world that collect acoustics and electronic information on the world's oceans. These systems expand coverage for government and industry partners to protect borders, natural resources, and undersea infrastructure - and do so at extremely low cost compared to traditional monitoring assets. This is of critical importance given how large the United State's borders are. There simply isn't a large enough fleet to patrol them and that's where ThayerMahan's unmanned vehicles come in. "There's a tremendous amount of drug and human trafficking that comes through our border, in addition to illegal fishing in protected areas, and those breaking our environmental laws. Our acoustic sensors contract nefarious targets from many miles away, providing the real-time data the coast guard and other agencies need for enforcement," said Hine. He adds, "Our land border extends into the ocean and doesn't stop at the beach. With our technology, we feel adept at monitoring the southern border on the water."
ThayerMahan also works with the energy and environmental sectors providing things like search as a service, scanning, surveying, and collecting data. They can search sites with three-by-three imagery using SAS to provide the high level of detail required by the offshore energy industry, for example. With technology that can be modified based on the needs of individual companies or sectors, ThayerMahan has been able to extend its reach globally.
Founded in 2016, the company started with two employees in an 400 square foot building in Mystic, Connecticut, and in four years had grown to 54 employees, half of whom are ex-military with security clearance. They've also registered 13 patents. Their growth demonstrates the need for innovative BlueTech companies, but Hine still sees them as a small defense contractor. "We're a small niche business that is happy to fly under the radar. Our tech expertise is used to minimize the number of people we put in danger. The work makes it possible to leverage our expensive capital assets so that they are more efficient when they are deployed on the water."
When asked why they have been able to grow so quickly, Hines said, "The scaling of our business and continued growth is a function of our ability to adopt AI and machine learning techniques to our systems. That will allow us to scale a number of systems beyond what a single human operator can monitor remotely. Attracting AI talent to our company is something we are actively engaged in and a big part of our future capabilities." Being located in Groton has been beneficial for attracting this and other talents. ThayerMahan recruits all over the country as well as from regional institutions including the University of Connecticut, MIT, the University of Rhode Island and Worcester Polytechnic Institute - all of which are less than two hours away.
Their Groton location has made it easier to recruit talent and work with regional partners, while also giving the company access to some of their largest customers - the Navy and Coast Guard. "SE New England is the BlueTech hub and Groton is in a triangle of maritime innovation, along with the agencies and private companies using it," said Hine.
When asked about their experience in Groton, Hine said, "Connecticut doesn't have a reputation for being a destination for startups but we found it to be a great place to grow a business.
"The Town of Groton helped us to find our first couple of locations and obtain low-interest financing through Connecticut Innovations and the Connecticut Business Express." In addition to providing hands-on support during the startup phase, Groton also provides the company with a must-have asset - water access. They deploy and test their systems in the harbor before ultimately deploying them in customer locations.
Access, strategic partnerships, talent, and opportunities are abundant in Groton, and especially in the undersea sector. Hine commented, "I see a really bright future because it's hard to find the level of undersea experience our company has. the undersea domain is like space. It's relatively unexplored with a tremendous amount of opportunity. We have leading, cutting-edge technologies that have put us ahead of our customers and what will allow us to experience continued growth in the national security and commercial sectors. As we do, we will grow in Groton because it's been an excellent home for us."