Earth, Turf & Snow: How a 9-Year Old's Lawn Mowing Gig Became a Force of Nature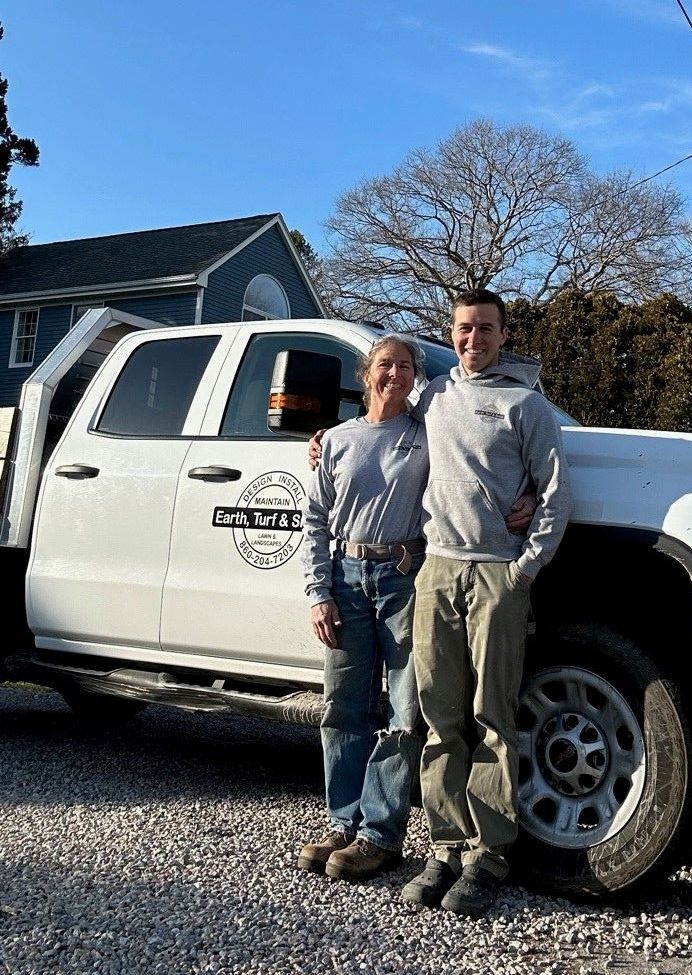 28 Mar 2023
Small Business
Bill DeCourcey will celebrate 20 years in business before he turns 30 years old.
That's because DeCourcey, 27, started mowing lawns when he was just nine years old. It was the summer of 2004 when young Bill DeCourcey, growing up in Mystic, offered to cut the grass of his grandfather's neighbor in Groton Long Point. Word got around, and pretty soon he was trimming other lawns in the neighborhood, he and his old push mower chauffeured job-to-job by his mother in her minivan.
Fast forward to the current day and Bill is entering another summer as the sole proprietor of Earth, Turf & Snow LLC, a four-season, full-service landscaping and contracting firm serving Southeastern Connecticut from the Thames River to the Pawcatuck River. His business has five trucks, a couple of tractors, an excavator, and an armada of mowers, snowblowers, and plow attachments. All operations emanate from a pair of buildings on an old farm he purchased to house the business on Shewville Road in Mystic.
A Family Affair
The number of employees varies by season, and family has always been part of the operation. When his older sister Cassie got her driver's license when she and Bill were students at Fitch High School, she contributed her first car to the business. Bill promptly modified it to haul a trailer for his mower. At the time, Bill had named the business Worker Bee Landscaping, but when he turned 16 and officially established the business, he changed it to its current name.
That's also when his mom, Lucretia, became the first full-time employee, keeping the various jobs organized and running the business while Bill worked after school and on weekends during the school year. The arrangement continued through Bill's college years at Three Rivers Community College and Eastern Connecticut State University (ECSU) where he completed his degree in Finance in 2018. During that time his mom went back to school and earned a Masters in Gardening at the University of Rhode Island, skills that were immediately put to full use on landscaping projects that included plantings.
"We have a great relationship. It's awesome," Bill said. "We're pretty similar in personality, and we might butt heads every now and then, but I can't imagine not working with mom."
Experience Enabled Business Expansion
Bill said that he basically was a full-time employee by the time he graduated from ECSU, since he was able to schedule his classes for later in the day and consequently put in close to 30 hours working per week. His availability and enthusiastic entrepreneurship allowed him to gain experience and expand his skill set quickly, and Earth, Turf & Snow grew organically.
"We've done it pretty much by word of mouth. We didn't do too much advertising," Bill points out.
Now, his business offers a full suite of services. In addition to the basic lawn care Bill alone provided as a kid, the Earth, Turf & Snow team handles the pruning and removal of trees, stone projects such as walls, patios and steps, brush clearing, and landscape installations.
Asked where he intends to take the business, Bill said, "I don't know what else we'd add to the landscaping business." Though he did say he might explore other business ventures, adding, "It's been a dream of mine to have a marina. That's always been a goal."